JoAnn Hill, Senior Manager for Sales & Operations
When JoAnn Hill isn't managing environmental impact solutions or forestland resources at MSUSA, you will likely find her working in the young adult cancer survivor community where she is a member of the Pink Phurree (pronounced "fury"), Texas' first all women and cancer survivor dragon boat team. Pink Phurree has been a member of the International Breast Cancer Paddler's Commission (IBCPC) since 2011.

Pink Phurree, is an unconventional cancer support group where dragon boat paddling is used to promote active survivorship both on and off the water. Their purpose is to encourage, support and provide hope to survivors and their families.
JoAnn's life took an unexpected turn in 2011 when she was diagnosed with stage 3, inflammatory breast cancer (IBC). The good news is that the MSUSA senior manager for sales and operations has been considered NED (No Evidence of Disease) for nearly seven years.
As part of JoAnn's cancer survivor awareness activities, she became involved in Dragon Boat and Paddle Festival activities through the late founder of Pink Phurree, Frances Arzu while attending a young adult cancer survivorship conference at MD Anderson Center in Houston.
"At the time," JoAnn said, "I had a baby and was not ready to commit to the team. Fast forward five years, and I learned that Frances passed. It was shortly after that I felt a calling to join the team in March 2018."
During the 21st Annual Austin Dragon Boat and Paddle Festival April 27-28 at Festival Beach on Lady Bird Lake near Austin, JoAnn served as the Pink Phurree team captain. Pink Phurree was one of only two all-female cancer survivor teams participating in the competitive division B, and they won all three 500-meter races on Saturday.
Dragon boat racing is believed to have started 2,000 years ago in China and has since spread all over the world. The boats are long and hold up to 20 paddlers, each with one paddle, sitting two-by-two — plus a steersperson and a drummer to keep everyone in sync.
In 1995, Dr. Don McKenzie, a sports medicine physician and exercise physiologist who was also a member of Canada's national canoe team, decided to challenge prevailing wisdom that repetitive upper body motion by breast cancer survivors could cause a condition called lymphedema, a swelling common in the arms of breast cancer survivors who have had lymph nodes removed. After deciding paddling dragon boats was the best test, he recruited 24 volunteers and started the first dragon boat racing team of breast cancer survivors.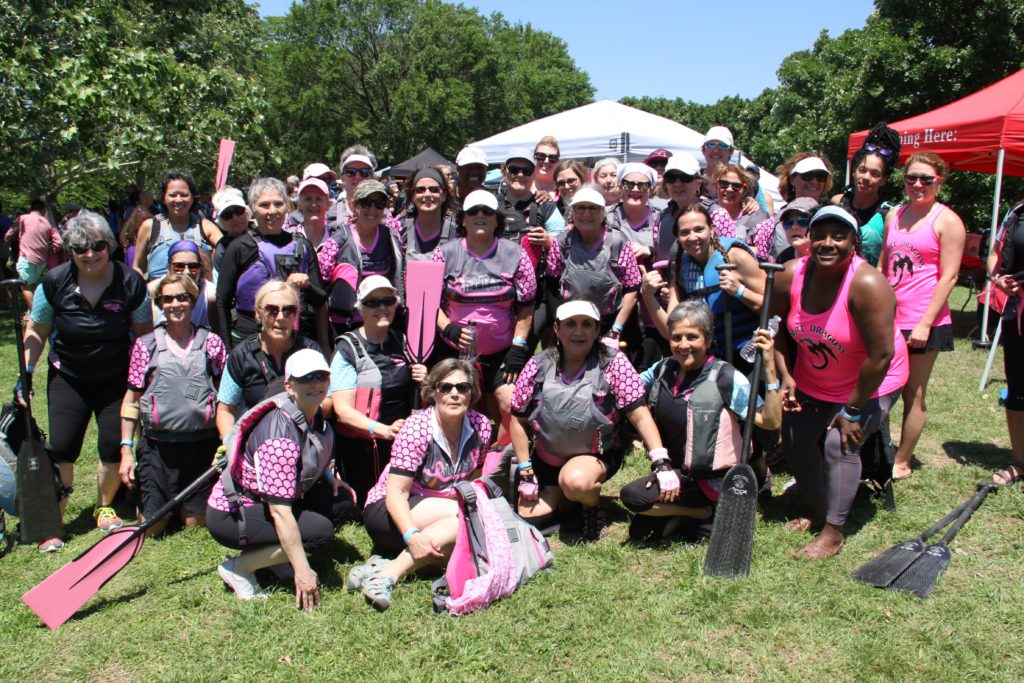 Research has since proven successful and both Dr. McKenzie and Dr. Susan Harris, who joined McKenzie in his dragon boat racing project, have published articles supporting exercise as not only safe for breast cancer survivors but can also reduce rates of recurrence and help those with lymphedema.
Our purpose is to encourage, support and provide hope to survivors and their families – Pink Phuree, 501(c)(3) nonprofit